Antarctic Peninsula Adventure
» Mar 22 2018 – Apr 1 2018 (11 DAYS)
» DISEMBARKATION: Ushuaia
EXPEDITION IN BRIEF
Towering glaciers, amazing wildlife encounters, snow-covered landscapes, massive icebergs and the option to choose your favourite activities each and every day make this voyage the perfect introduction to the white continent. In the waters of the Antarctic Peninsula, we spend our days off the ship exploring by Zodiac boat, making several shore landings each day in the company of our expert guides.
By breaking into small special interest groups we discover Antarctica and its remarkable wildlife through photography, Zodiac excursions, hiking onshore, and for the more adventurous – camping and sea kayaking. Visits to historic huts and the opportunity to visit a working research station add another dimension to the voyage.
This popular 10-night expedition features many of the well-known landing sites such as Neko, Paradise and Orne Harbours', Cuverville Island and the Errera Channel – and ice conditions permitting, we hope to transit the spectacular Lemaire Channel. A final highlight will be a visit to the beautiful South Shetland Islands. Here, we aim to visit Deception Island and other nearby locations such as Half Moon Island or Yankee Harbour. Returning to South America a final thrill will be a rounding the legendary landmark of Cape Horn. This ever popular 10-night voyage truly provides the quintessential Antarctic experience.
ITINERARY OVERVIEW
Day 1 – Ushuaia, Argentina
Days 2 and 3 – Drake Passage, at sea towards Antarctica
Days 4 to 7 – Gerlache Strait and Antarctic Peninsula
Day 8 – South Shetland Islands, Antarctica
Days 9 and 10 – Drake Passage, return to South America
Day 11 – Ushuaia, Argentina

SHIP
Akademik Ioffe
ADVENTURE OPTIONS
Kayaking

ACTIVITIES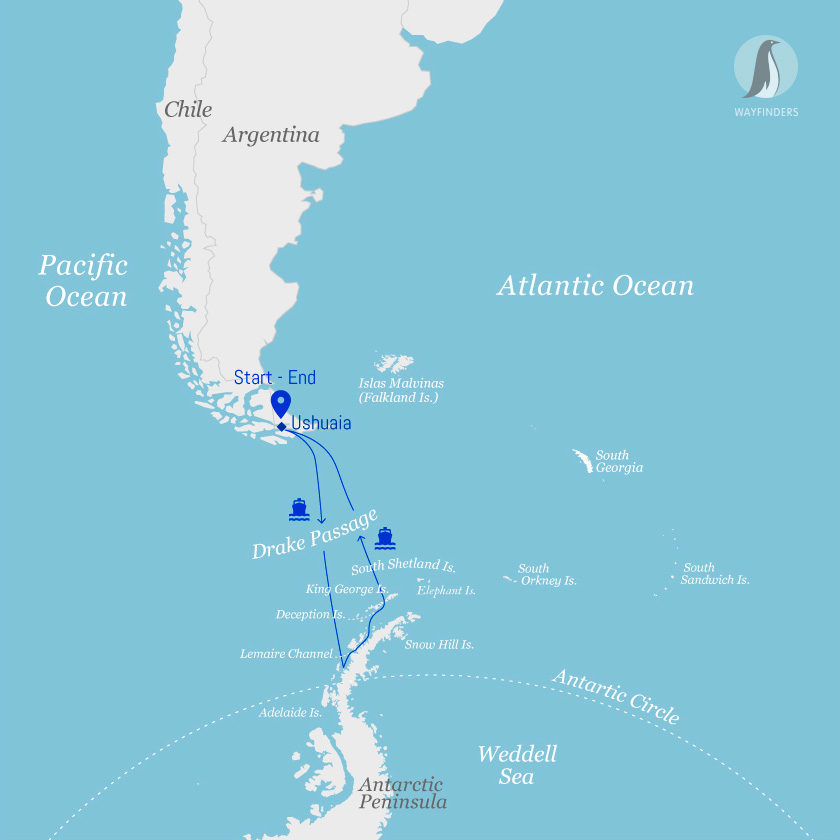 ITINERARY DAY BY DAY
Day 1 – Ushuaia, Argentina
Our journey to Antarctica commences this afternoon in Ushuaia, in southern Argentina. We gather at our central meeting point and transfer to the pier and embark our expedition ship, One Ocean Navigator (Akademik Ioffe). After settling in to our cabins and exploring the ship, we meet our expedition team and fellow passengers. Excitement is in the air as we enjoy a welcome cocktail and dinner and cast off, bound for Antarctica and the adventure of a lifetime.
Days 2 and 3 – Drake Passage, at sea towards Antarctica
Sailing south towards Antarctica we will be joined by hundreds of seabirds including the wandering albatross. Giant petrels and smaller Cape petrels are also constant companions as we transit the Drake Passage. Photographing these magnificent birds from the deck of the ship takes patience and skill and our photography expert will be on hand to show you the best techniques. Join the ship's Captain on the bridge and learn about the operations of our modern expedition vessel. Throughout the day our onboard experts educate us with a series of presentations about the environment, wildlife and history and the locations we hope to visit in the coming days.
Days 4 to 7 – Gerlache Strait and Antarctic Peninsula
We awaken today and the magnificent snowy peaks of continental Antarctica are laid out before us. Even our experienced expedition staff, some with more than 100 journeys south, will take a moment to pause and reflect on this incredible sight. Take a deep breath – you have arrived. This is Antarctica.
The waterways of the Antarctic Peninsula are home to deep bays, pristine coves and inlets and numerous small islands. The Gerlache coastline features heavily glaciated mountains permanently covered in ice and snow. Rocky outcrops, known as 'nunataks' are home to gentoo, Adelie and chinstrap penguin rookeries and the waters are rich in marine life. We frequently encounter seals, including the powerful leopard seal, usually found hauled out on an ice floe. Curious humpback whales and the smaller minke whales are present much of the time as they feed on the vast schools of krill. Sightings of orca are not uncommon.
Our activity program is in full swing and we encourage all guests to choose how their adventure unfolds. Every day we plan an exciting range of activities, including guided hikes on shore (both short and long), visits to wildlife colonies with our expert naturalist guides. The historic huts and science stations located along the peninsula provide a fascinating glimpse into the past and the present. Zodiac cruising among the ice searching for seals and whales is a memorable activity. Meanwhile, our sea kayakers may range several miles from the ship experiencing Antarctica from an entirely different perspective. Our resident photography guide will be on hand to help you with your camera handling and image composition. Maybe what you really want to do is sit on a rock, simply watching the penguins come and go from the water? Make yourself comfortable and enjoy the show.
Planned excursions along the Antarctic Peninsula could include Cierva Cove or Mikklesen Harbour, Danco Island, the Melchior Islands and Fournier Bay – or a cruise through the Errera Channel to visit the gentoo penguin rookeries at Cuverville Island. Wilhelmina Bay is another favorite location and one where we frequently encounter playful humpback whales. Nearby Paradise Harbour is a particular highlight and offers an excellent hiking route to a viewpoint providing expansive views. Andvord Bay and Neko Harbour provide yet another continental landing opportunity.
It is somewhere along this stretch of coastline we plan a night on shore, camping in Antarctica. We have all the right gear and equipment and an expert team to make it happen – all you need is an adventurous spirit! Camping always depends on the weather and we can never guarantee it on any voyage. If the weather is good and site characteristics suit our requirements, rest assured, we will always go for it. Camping is included and you can decide to participate on the day. There is no need to pre-book.
Day 8 – South Shetland Islands, Antarctica
After several busy days of exploration along the Peninsula, we head north across the Bransfield Strait, bound for the South Shetland Islands. The adventure is not over and, if the weather conditions allow, we sail the ship into the flooded volcanic caldera at Deception Island. This is a very dramatic location. History is all around us as we explore the old whaling station, with the rusted old boilers and dilapidated wooden structures. On a sunny day, cruising along the coast of Livingston Island is a memorable experience. There are several other landing sites in the vicinity including Half Moon Island, and the broad pebbly beach at Yankee Harbour, where we often encounter Weddell seals sunning themselves. This is a great spot for a hike or a Zodiac cruise. In the evening, we navigate north through the McFarlane Strait and into the Drake Passage, charting a course for South America.
Days 9 and 10 – Drake Passage, return to South America
As we make our way back to South America, the educational presentations continue and we enjoy an entertaining and memorable voyage recap by our Expedition Leader. Join our photography experts in the multimedia room and download and back up your precious images. If weather conditions allow, we hope to make a rounding of Cape Horn. This fabled stretch of water is home to legendary tales of exploration and early navigation. It's a fitting place to reflect on a wonderful expedition. Approaching the entrance to the Beagle Channel in early evening light, we enjoy a special dinner attended by the Captain of the ship.
Day 11 – Ushuaia, Argentina
In the early morning, we arrive into Ushuaia, Argentina. It is time to say farewell to your crew and fellow travellers. Guests will be transported to their hotels or to the airport for return flights home. It will be possible to connect to flights through to Buenos Aires or other destinations in South America. Otherwise enjoy a night in town or venture further afield to explore the highlights of Patagonia.
CABINS & PRICES
| | |
| --- | --- |
| Triple Share | USD 8,295 |
| Twin-Semi Private | USD 10,295 |
| Twin Private | USD 11,295 |
| Superior | USD 12,295 |
| Shackleton Suite | USD 13,395 |
| One Ocean Suite | USD 15,295 |
All rates per person in USD
INCLUDES
Extensive pre-departure information package
Educational presentations from experienced guides such as ornithologists, glaciologists, historians, geologists, naturalists and marine mammals experts
Photography advice and instructions from the resident photographer. Extended photography workshops available on select departures
All zodiac and landing excursions
Zodiac cruising, hiking, guided walks, photography workshops, fitness and yoga
Overnight camping, including high-quality equipment. No pre-registration required. Camping is available on select departures only and can be affected by itinerary and
weather conditions. Please see your full itinerary for further details
All meals during the voyage prepared by One Ocean Expeditions chefs
Welcome reception and welcome dinner
One Ocean Expeditions Farewell dinner hosted by the Captain
Daily afternoon tea with fresh snacks
Coffee, tea and hot chocolate available anytime
Access to wellness area (Finnish sauna, plunge pool filled with sea water, hot tub)
Natural essential oil amenities
Use of multimedia room to download images. Adobe Lightroom/Photoshop and card readers are available for use on MAC and PC computers
Windproof/waterproof jacket and bib pants on loan
Insulated rubber boots on loan
Water resistant binoculars on loan
Waterproof backpack on loan
Trekking poles available on shore
Services of English speaking medical officer
Access to ship's infirmary
Transfers from/to designated meeting points to/from the ship
Required flights to/from the ship (only applicable on certain departures)
Luggage transfer to/from your cabin
EXCLUDES
International and national airfares
Visa and passport fees, airport taxes
Pre- or post-cruise hotel accommodation in arrival/departure cities
Meals and transfers in arrival/departure cities
Personal expenses
Soft drinks and alcoholic beverages
Massages from registered therapist
Personal laundry charges
Postage, telephone calls and email set up
Medical expenses such as fees, prescriptions or medications
Travel medical insurance including medical evacuation (mandatory)
Trip interruption/cancellation insurance
Gratuities to staff and crew
OOS171800075
https://wayfinderadventures.com/wp-content/uploads/2017/09/One-Ocean-2.jpg
1080
1920
radmin
https://wayfinderadventures.com/wp-content/uploads/2017/08/LOGO-NEGATIVO-2-300x88.png
radmin
2017-09-08 14:09:42
2018-10-06 13:54:33
Antarctic Peninsula Adventure