Antarctica, South Georgia and Falkland Islands
» Jan 28 2020 – Feb 14 2020 (19 DAYS)
» DISEMBARKATION: Port Stanley
EXPEDITION IN BRIEF
Fantastic glaciated scenery of the Antarctic Peninsula and South Georgia
Outstanding wildlife observation on shore, Zodiac cruising and from the ship
Visits to historic sites and science stations
Learn about the environment, wildlife, history and ecology from polar experts
ITINERARY OVERVIEW
Day 1 – Ushuaia, Argentina
Days 2 and 3 – Drake Passage, at sea towards Antarctica
Days 4 to 7 – South Shetland Islands and Antarctic Peninsula
Day 8 – South Shetland Islands, Antarctica
Days 9 and 10 – Drake Passage, return to South America
Day 11 – Ushuaia, Argentina

SHIP
RCGS Resolute
ADVENTURE OPTIONS
Kayaking

ACTIVITIES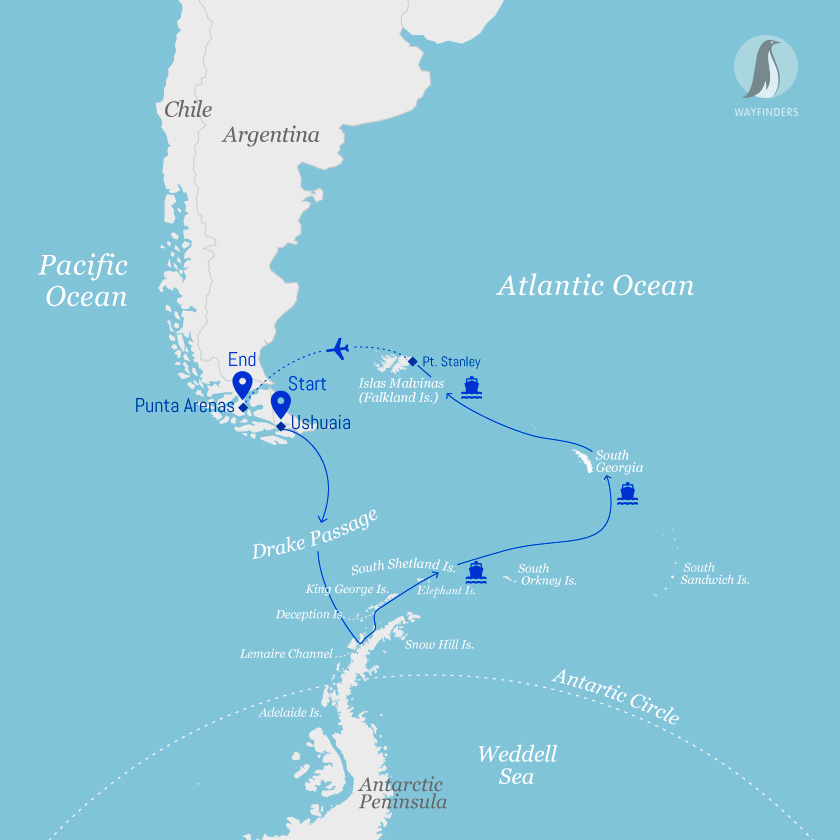 The towering peaks and immense glacial systems of the Antarctic Peninsula are home to a great abundance of wildlife which we observe on shore, from the zodiacs and the ship. Large penguin rookeries are found at several locations and we encounter seals and whales in the iceberg filled waterways. Opportunities to visit historic huts and active science stations add further interest. We explore on shore through guided walks which may last up to several hours. Or if you prefer to sit and observe the penguins as they come and go from the water – why not? The more active may choose the sea kayaking option and experience a whole new side of Antarctica.
Our journey continues as we follow the course taken by
Sir Ernest Shackleton whose epic small boat journey, from Elephant Island across the Scotia Sea to South Georgia remains one of the greatest feats of navigation in history. We explore the northern coastline of the island, home to some of the largest king penguin colonies on earth. The shores
are covered in wildlife – including nesting albatross, fur seals and elephant seals. Rusting relics from the old whaling
era sit silent and provide a dramatic contrast to the green tussock grass, and snowy peaks that surround us. We then head for the Falkland Islands and aim to spend one final
day exploring the wildlife-rich Sea Lion Island and nearby by Bleaker Island. Our voyage comes to an end in Stanley – the small capital of the Falkland Islands. This is the classic small- ship expedition to three unique locations.
ITINERARY DAY BY DAY
DAY 1 / USHUAIA (ARGENTINA) (TUESDAY, 28 JANUARY, 2020)
Our journey to Antarctica commences this afternoon in Ushuaia, Argentina. We gather at our central meeting point and transfer to the pier and embark our expedition ship. After settling into our cabins and exploring the ship, we meet our expedition team and fellow passengers. Excitement is in the air as we enjoy a welcome cocktail, dinner and cast off, bound for Antarctica and the adventure of a lifetime.
DAY 2-3 / DRAKE PASSAGE – AT SEA TOWARDS ANTARCTICA
Sailing south towards Antarctica we will be joined by hundreds of seabirds including the wandering albatross will be our constant companions as we transit the Drake Passage. Photographing these magnificent birds takes patience and skill and our photography expert will be on hand to show you the best techniques. Join the ship's Captain on the bridge, or relax in the spacious observation lounges and outer decks. Throughout the day our onboard experts educate us with a series of presentations about the environment, wildlife and history and the locations we hope to visit in the coming days.
DAYS 4-6 / GERLACHE STRAIT AND ANTARCTIC PENINSULA EXPLORATION
Take a deep breath and venture out on deck as the towering peaks of the Antarctic continent are laid out before us. This is the moment you have been waiting for. For the next three days we have a varied itinerary exploring the Gerlache coastline
and South Shetland Islands. We aim for Paradise Harbour
and an opportunity to step foot on the contintal land mass of Antarctica. For many, this is the fulfilment of a life-long goal. A superb hike here leads up to a high point affording incredible views of the glaciers and mountains. This is a good location to observe nesting imperial cormorants on the cliffs. While Zodiac cruising or paddling the kayaks into nearby Skontorp Cove are other memorable activities – the small cove is surrounded by towering glaciers on all three sides.
Our activity program is in full swing by now, and each day we enjoy guided walks on shore, visits to wildlife colonies, and Zodiac cruising among the ice with our expert guides providing insight and interpretation. We have been exploring this section of Antarctica's coastline for many years and we have a few special locations in mind. The Errera Channel has several such spots – including Danco Island – a dome-shaped sentinel providing some great hiking options. Cuverville Island is another favourite – with its substantial Gentoo penguin rookeries.
We navigate north through the Gerlache Strait towards Spert Island – a little visited rocky outcrop with remarkable geology. The island is criss-crossed by narrow channels which makes
for fantastic Zodiac cruising and sea kayaking. The cliffs are home to numerous nesting bird species and we often encounter whales here. Nearby Mikkelson Harbour also allows for another off-ship excursion. After several busy days of exploration we head north, bound for the South Shetland Islands. This is an important whale migration corridor and we expect sightings of humpbacks, or the resident orca group that inhabit this area.
If weather conditions permit, we sail the ship right into the middle of a volcanic caldera at Deception Island. This is a very dramatic place and home to several penguin rookeries along the black sand beaches. History is all around us as we explore the old whaling station, with the rusted relics and dilapidated wooden buildings. Fur seals gather among the old structures seeking protection from the elements. At the far end of the beach is an old aircraft hangar. This is where Australian, Sir Hubert Wilkins made the very first flight in Antarctica in 1928. There is an outstanding hike here to a location known as 'Neptune's Window' – high up onto the rim of the crater.
DAY 7 / ELEPHANT ISLAND
After several busy days of exploration along the Antarctic Peninsula and the South Shetlands, we head for Elephant Island – a location forever connected to the story of Sir Ernest Shackleton and the HMS Endurance expedition a century ago. Point Lookout on the southern tip of Elephant Island is home to an impressive chinstrap penguin colony. Macaroni penguins also breed here and are a species we have yet to encounter
to date. Both southern elephant seals and fur seals are hauled out on the rocky beaches. If conditions permit, we hope to visit the fabled location of Point Wild on the north coast of Elephant Island. It is here that Shackleton and his men were encamped under their upturned life boats for several months in 1917, before five men set off on a rescue mission to South Georgia in their tiny lifeboat – the 'James Caird'.
DAYS 8-10 / SCOTIA SEA – TOWARDS SOUTH GEORGIA
Departing Elephant Island we cannot help but ponder the journey made by Shackleton and his four companions – as they attempted the near impossible – navigating 800 nautical miles in a 24-foot converted lifeboat across the tempestuous Scotia Sea to South Georgia. We make a much easier time of the crossing in our state-of-the-art expedition ship. Onboard experts keep us busy with fascinating presentations and lead lively discussions throughout the day. The great pelagic seabirds are sure to keep us company – and we anticipate excellent sightings of albatross and giant petrels. Anticipation builds as the mountainous peaks appear on the horizon, marking our arrival at South Georgia.
DAYS 11-13 / EXPLORATION OF SOUTH GEORGIA
Having arrived in South Georgia we spend the next three days exploring the coastline. Dark sand beaches, tussock covered hinterland and a backdrop of towering peaks and glaciers are
a feast for all the senses. South Georgia has often been called the 'greatest wildlife show on earth'. Seals cover the beaches, seabirds fill the skies and living in rookeries of immense size, are the majestic king penguins. Our plan is to visit several of these huge colonies – where naturalists estimate that more than 100,000 adult and juvenile penguins live in close proximity. Locations may include Gold Harbour, Royal Bay, St Andrews Bay and Salisbury Plain.
Dotted along the coastline are the rusting relics of the early whaling era. The largest of these locations is Grytviken. Here we find a fascinating museum and a beautifully restored Norwegian Lutheran Church. Adjacent to the old whaling station lies a small cemetery. This is the final resting place of Sir Ernest Shackleton – who was laid to rest here in 1922. For many onboard, being in the presence of the great explorer is a highlight of the trip.
We continue our journey along the coastline, hoping to visit Stromness – another former whaling station – and the final destination of Shackleton and companions Frank Worsley and Tom Crean having made the near impossible traverse across the interior of South Georgia after their epic boat trip from Antarctica a century ago.
DAYS 14-16 / AT SEA – TOWARDS THE FALKLANDS
By now we are in sensory overload, our cameras full of images and our journey towards the Falkland Islands commences.
The spectacular seabirds including several albatross and petrel species are our constant companions as they soar above the ship. The onboard educational program continues, and our experts recap our remarkable journey to date. These days provide a good opportunity to catch up on journal entries, sort through your images at the multimedia stations and catch some rest after several busy weeks of activity.
DAY 17 / FALKLAND ISLANDS
We wake to the sight of landfall in the Falkland Islands. Approaching Sea Lion Island, we first note the very barren
and windswept landscape, exposed to the prevailing weather that originates in the Drake Passage. We launch the Zodiacs and go ashore to view the incredible diversity of wildlife found at this location. Three species of penguin including gentoo, magellanic and rockhopper, as well as southern elephant seals and South American sea lions are known to inhabit the area. King cormorants and striated caracaras are just some of the bird species we expect to see. As we cruise along the coast of the Falklands, bound for Stanley, we enjoy a special dinner attended by the ship's Captain.
DAY 18 / ARRIVE STANLEY (FALKLAND ISLANDS) – VOYAGE CONCLUDES – FLY BACK TO SANTIAGO (CHILE) (FRIDAY, 14 FEBRUARY, 2020)
This morning we find ourselves back in the port of Stanley. We say goodbye to our crew and after some free time in town, make our way to the airport for our return charter flight to Santiago. On arrival in Santiago our journey comes to an end. Onward regional and international flight connections may be possible this evening. Discuss the options with your booking agent. A transfer is provided to a downtown location for those choosing to stay and explore Santiago and the delights of Chile.
CABINS & PRICES
| | |
| --- | --- |
| Triple Share | USD 21,195 |
| Twin Private | USD 25,595 |
| Superior | USD 26,995 |
| Superior Plus | USD 26,995 |
| Shackleton Suite | USD 28,795 |
| One Ocean Suite | USD 29,995 |
All rates per person in USD
INCLUDES
Extensive pre-departure information package
Educational presentations from experienced guides such as ornithologists, glaciologists, historians, geologists, naturalists and marine mammals experts
Photography advice and instructions from the resident photographer. Extended photography workshops available on select departures
Onboard sauna, plunge pool, Jacuzzi and fitness centre including massage options (charge applies for massage and treatments)
All zodiac and landing excursions
All meals during the voyage prepared by One Ocean Expeditions chefs
One Ocean Expeditions Farewell dinner hosted by the Captain
Daily afternoon tea with fresh snacks
Coffee, tea and hot chocolate available anytime
Windproof/waterproof jacket and bib pants on loan
Insulated rubber boots, binoculars, and backpack on loan
Services of English speaking medical officer
Transfers from/to designated meeting points to/from the ship
Port fees and all permits to access visited areas
End of voyage video, photos and take home USB
EXCLUDES
Visa and passport fees, airport taxes
Pre- or post-cruise hotel accommodation in arrival/departure cities
Meals and transfers in arrival/departure cities
Personal expenses
Soft drinks and alcoholic beverages
Massages from registered therapist
Personal laundry charges
Postage, telephone calls and email set up
Medical expenses such as fees, prescriptions or medications
Travel medical insurance including medical evacuation (mandatory)
Trip interruption/cancellation insurance
Gratuities to staff and crew
OOS192000110410
https://wayfinderadventures.com/wp-content/uploads/2017/09/One-Ocean-2.jpg
1080
1920
radmin
https://wayfinderadventures.com/wp-content/uploads/2017/08/LOGO-NEGATIVO-2-300x88.png
radmin
2019-05-02 13:36:00
2019-05-02 13:36:00
Antarctica, South Georgia and Falkland Islands