Antarctica and South Georgia – Includes flight from Port Stanley
» Dec 28 2017 – Jan 13 2018 (17 DAYS)
» DISEMBARKATION: Port Stanley
EXPEDITION IN BRIEF
This new voyage takes place at the height of the Antarctic summer. We enjoy extended daylight hours at this time of the season, the wildlife colonies are busy and as the sea ice continues to break up, allowing a range of landing sites to expand even further. Departing from Ushuaia, Argentina we cross the Drake Passage arriving in Antarctica to celebrate the New Year! Here we explore the Antarctic Peninsula and South Shetland Islands making daily shore landings. We then follow the course taken by Sir Ernest Shackleton whose epic small boat journey, from Elephant Island across the Scotia Sea to South Georgia, remains one of the greatest feats of navigation in history.
We commence our exploration at the remote southeastern tip of the island, and then spend the following days exploring the northern coastline. Here are some of the largest king penguin colonies on earth. The shores are covered in wildlife – including nesting albatross, fur seals and elephant seals. Rusting relics from the old whaling era sit silent and provide a dramatic contrast to the green tussock grass, and snowy peaks that surround us.
After a thorough exploration of South Georgia, we head for the Falkland Islands and aim to spend one final day exploring the wildlife-rich Sea Lion Island and nearby Bleaker Island. Our voyage comes to an end in Stanley, Falkland Islands – the small capital from where we fly back to Punta Arenas, Chile.
ITINERARY OVERVIEW
Day 1 – Ushuaia, Argentina
Days 2 and 3 – Drake Passage, at sea towards Antarctica
Days 4 and 5 – Antarctic Peninsula
Days 6 and 7 – South Shetland Islands and Elephant Island
Days 8 and 9 – Scotia Sea, sailing towards South Georgia
Days 10 to 12 – South Georgia
Days 13 to 15 – Sailing towards the Falkland Islands
Day 16 – East Falkland Islands
Day 17 – Stanley, Falkland Islands, return to South America

SHIP
Akademik Ioffe
ADVENTURE OPTIONS
Kayaking

ACTIVITIES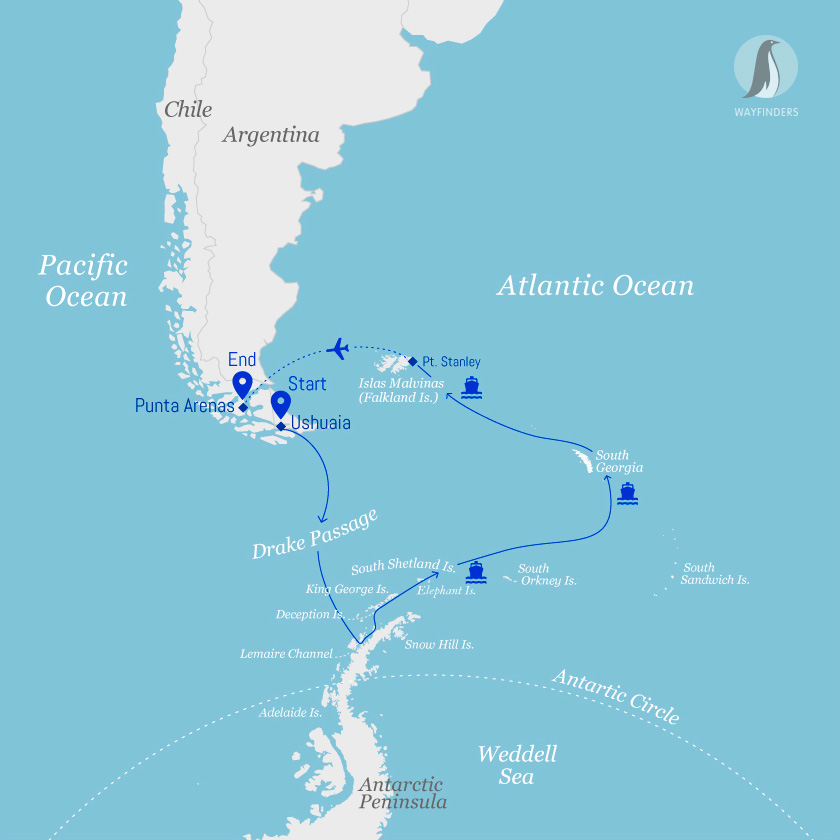 ITINERARY DAY BY DAY
Day 1 – Ushuaia, Argentina
Our journey to Antarctica commences this afternoon in Ushuaia, in southern Argentina. We gather at our central meeting point and transfer to the pier where we embark our expedition ship. After settling into our cabins and exploring the ship, we meet our expedition team and fellow passengers. Excitement is in the air as we enjoy a welcome cocktail, dinner and then cast off, bound for Antarctica and the adventure of a lifetime.
Days 2 and 3 – Drake Passage, at sea towards Antarctica
Sailing south towards Antarctica we will be joined by hundreds of seabirds including the wandering albatross. Giant petrels and smaller Cape petrels are also constant companions as we transit the Drake Passage. Photographing these magnificent birds from the deck of the ship takes patience and skill and our photography expert will be on hand to show you the best techniques. Join the ship's Captain on the bridge and learn about the operations of our modern research vessel. Throughout the day our onboard experts educate us with a series of presentations about the environment, wildlife and history and the locations we hope to visit in the coming days.
Days 4 and 5 – Antarctic Peninsula
We awaken today and the magnificent snowy peaks of continental Antarctica are laid out before us. Even our experienced expedition staff, some with more than 100 journeys south, will take a moment to pause and reflect on this incredible sight. Take a deep breath – you have arrived. Welcome to Antarctica. This must surely be one of the most spectacular locations in the world to bring in the New Year!
We spend the next several days navigating through icy waterways of the Antarctic Peninsula. The coastline features heavily glaciated mountains permanently covered in ice and snow. Rocky outcrops are home to gentoo, Adelie and chinstrap penguin rookeries and the waters are rich in marine life. We make several offship excursions each day, exploring on shore, or cruising in the Zodiacs. Our activity program is in full swing and we encourage all guests to choose how their adventure unfolds. We break up into small groups allowing us to indulge our own personal interests – be it hiking, wildlife observation, photography or blissful silent contemplation.
As well as exploring the offshore islands along the coastline, we hope to step foot on the actual continent of Antarctica. Neko Harbour, or nearby Paradise Harbour both provide opportunities to experience this great thrill.
Days 6 and 7 – South Shetland Islands and Elephant Island
After several busy days of exploration along the Antarctic Peninsula, we head for the South Shetland Islands. If the weather conditions allow, we sail the ship into the flooded volcanic caldera at Deception Island. This is a very dramatic location. There are several other landing sites in the vicinity including Half Moon Island and the broad pebbly beach at Yankee Harbour, where we often encounter Weddell seals sunning themselves. To the north, lies Elephant Island – forever connected to the story of Sir Ernest Shackleton and the HMS Endurance expedition a century ago. On the windswept north coast, exposed to the swells of the South Atlantic, is Point Wild. It was here that Shackleton and his exhausted men camped under their upturned boats – pondering their chances of survival. Shore landings here are notoriously tricky due to often gale force winds and pounding surf onto the rocky beach. Nevertheless, this is a thrilling location for history buffs.
Days 8 and 9 – Scotia Sea, sailing towards South Georgia
As we depart Antarctica we cannot help but ponder the journey made by Shackleton and his four companions – as they attempted the near impossible – navigating 800 nautical miles in a 30 foot converted lifeboat across the tempestuous Scotia Sea to South Georgia. We make a much easier time of the crossing in our state of the art expedition ship. Onboard experts keep us busy with fascinating presentations and leading lively discussions throughout the day. The great pelagic seabirds are sure to keep us company – and we anticípate excellent sightings of albatross and giant petrels soaring on the winds of the South Atlantic Ocean. Anticipation builds as the mountainous peaks appear on the horizon, marking our arrival at South Georgia.
Days 10 to 12 – South Georgia
Rounding the remote southeastern end of South Georgia, we spend the next three days thoroughly exploring the coastline. Dark sand beaches, tussock covered hinterland and a backdrop of towering peaks and glaciers are a feast for all the senses. South Georgia has often been called the most staggering wildlife show on earth. Seals cover the beaches, seabirds fill the skies and living in rookeries of immense size, you will discover the majestic king penguins. Our aim is to visit a number of these huge colonies – where naturalists estimate that more than 100,000 adult and juvenile penguins live in close proximity. Locations we hope to visit include Gold Harbour, Royal Bay, St Andrews Bay and Salisbury Plain. Dotted along the coastline are the rusting relics of the early whaling era. The largest of these locations is Grytviken. Here we find a fascinating museum and a beautifully restored Norwegian Lutheran Church. Adjacent to the old whaling station lies a small cemetery. This is the final resting place of Sir Ernest Shackleton – who was laid to rest here in 1922. For many onboard, being in the presence of the great polar explorer is a highlight of the trip. We continue our journey along the coastline, hoping to visit Stromness – another former whaling station – and the final destination of Shackleton and companions Frank Worsley and Tom Crean having made the near impossible traverse across the interior of South Georgia.
Days 13 to 15 – Sailing towards the Falkland Islands
By now we are in sensory overload, our cameras full of images and our journey towards the Falkland Islands commences. Much of our time is spent scanning the horizon in search of whales and other marine mammals. The spectacular seabirds including several albatross and petrel species are our constant companions as they soar above the ship. Photographing these stunning birds in flight, takes great patience and skill and our resident photography expert on board will show you the best techniques. Our onboard educational program continues and our experts recap our remarkable journey to date. These days provide a good opportunity to catch up on journal entries, sort through your images in the multimedia room and catch some rest after a busy two weeks of activity.
Day 16 – East Falkland Islands
After several days crossing, Sea Lion Island marks our arrival into the Falkland Islands. This windswept location situated in the southern archipelago provides one further day of activity. We launch our Zodiacs and go ashore to view the remarkable wildlife colonies found here. Three species of penguins including gentoo, magellenic and rockhopper exist in the vicinity. Southern elephant seals and South American sea lions are found hauled out on the beaches. Once ashore we also look for king cormorants and striated caracaras. Weather permitting we may have time to visit neighbouring Bleaker Island, another settlement on the exposed southeastern coast of the Falklands. Charting a northerly course towards Stanley, we enjoy a special dinner attended by the Captain of the ship and reflect on our remarkable expedition to the farthest corners of the planet.
Day 17 – Stanley, Falkland Islands, return to South America
In the early morning, we navigate through the narrows and into port. Stanley is currently home to just over 2,000 residents and is reminiscent of a rural town in coastal England or Scotland. It is charming with brightly coloured houses, pretty flower-filled gardens, a quaint cathedral and several local pubs. There is time to explore the town, before we make our way to the airport for our return flight to Punta Arenas in southern Chile (this flight is included in the price of your voyage). It will be possible to connect to flights through to Santiago or other destinations in Chile. If you are staying in Punta Arenas, a transfer will be provided to several downtown locations.
CABINS & PRICES
| | |
| --- | --- |
| Triple Share | USD 14,795 |
| Twin-Semi Private | USD 16,695 |
| Twin Private | USD 18,995 |
| Superior | USD 20,295 |
| Shackleton Suite | USD 21,995 |
| One Ocean Suite | USD 23,795 |
All rates per person in USD
INCLUDES
• Extensive pre-departure information package
• Educational presentations from experienced guides such as ornithologists, glaciologists, historians, geologists, naturalists and marine mammals experts
• Photography advice and instructions from the resident photographer. Extended photography workshops available on select departures
• All zodiac and landing excursions
• Zodiac cruising, hiking, guided walks, photography workshops, fitness and yoga
• Overnight camping, including high-quality equipment. No pre-registration required. Camping is available on select departures only and can be affected by itinerary and
weather conditions. Please see your full itinerary for further details
• All meals during the voyage prepared by One Ocean Expeditions chefs
• Welcome reception and welcome dinner
• One Ocean Expeditions Farewell dinner hosted by the Captain
• Daily afternoon tea with fresh snacks
• Coffee, tea and hot chocolate available anytime
• Access to wellness area (Finnish sauna, plunge pool filled with sea water, hot tub)
• Natural essential oil amenities
• Use of multimedia room to download images. Adobe Lightroom/Photoshop and card readers are available for use on MAC and PC computers
• Windproof/waterproof jacket and bib pants on loan
• Insulated rubber boots on loan
• Water resistant binoculars on loan
• Waterproof backpack on loan
• Trekking poles available on shore
• Services of English speaking medical officer
• Access to ship's infirmary
• Transfers from/to designated meeting points to/from the ship
• Required flights to/from the ship (only applicable on certain departures)
• Luggage transfer to/from your cabin
EXCLUDES
• International and national airfares
• Visa and passport fees, airport taxes
• Pre- or post-cruise hotel accommodation in arrival/departure cities
• Meals and transfers in arrival/departure cities
• Personal expenses
• Soft drinks and alcoholic beverages
• Massages from registered therapist
• Personal laundry charges
• Postage, telephone calls and email set up
• Medical expenses such as fees, prescriptions or medications
• Travel medical insurance including medical evacuation (mandatory)
• Trip interruption/cancellation insurance
• Gratuities to staff and crew
OOS171800093
https://wayfinderadventures.com/wp-content/uploads/2017/09/One-Ocean-6.jpg
1080
1920
radmin
https://wayfinderadventures.com/wp-content/uploads/2017/08/LOGO-NEGATIVO-2-300x88.png
radmin
2017-09-08 18:21:14
2018-10-06 13:52:27
Antarctica and South Georgia – Includes flight from Port Stanley