Antarctica 'Deep South' (includes flight to King George Island)
» Feb 20 2018 – Mar 3 2018 (12 DAYS)
» EMBARKATION: King George Island, Antarctica
» DISEMBARKATION: Ushuaia
EXPEDITION IN BRIEF
This special journey takes us further south than at any other time in the season. By flying to King George Island in Antarctica at the start of the voyage, we save two days on the ocean crossing. The time we save by flying south, allows for a more substantial exploration below the Antarctic Circle. Here we witness stunning landscapes, sizable Adelie penguin rookeries and large flat-topped tabular icebergs that drift north from the Bellingshausen Sea. We always anticipate exciting ice navigation when we push this far south.
We navigate the glaciated coastline of the Antarctic Peninsula, passing through the Argentine Fish and Yalour Island archipelagos on our way to the Gerlache Strait region. There are several important scientific stations here and a number of significant historic sites we hope to explore. We then aim to cross 66 degrees, 33 minutes south latitude, which officially marks the position of the Antarctic Circle on the global map. With favourable weather and ice conditions we hope to reach Marguerite Bay. This is a spectacular location reached by just a handful of ships each season.
Every day we explore off the ship in the company of our expert local guides, enjoying shore visits and Zodiac cruises that may last up to three and four hours at a time. This trip is ideal for those who love the excitement and spontaneity of exploration. There is no better way to travel than via our expedition ship, cruising to remote destinations.
ITINERARY OVERVIEW
Day 1 – Punta Arenas, Chile to King George Island, Antarctica

Days 2 to 6 – Antarctic Peninsula towards the Circle

Days 7 to 9 – Detaille Island, Marguerite Bay

Days 10 and 11 – Drake Passage, return to South America

Day 12 – Ushuaia, Argentina

SHIP
Vavilov
ADVENTURE OPTIONS
Kayaking

ACTIVITIES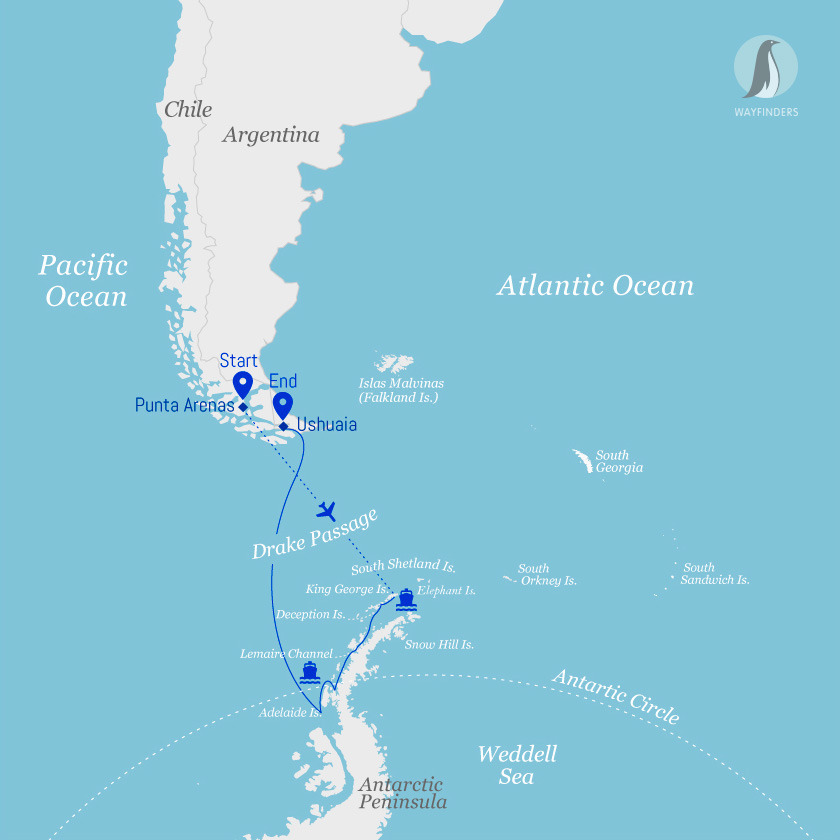 ITINERARY DAY BY DAY
Day 1 – Punta Arenas, Chile to King George Island, Antarctica
Our journey commences this morning in the southern Chilean port city of Punta Arenas. We gather at a central location and transfer to the airport for the two-hour flight across the Drake Passage to Antarctica (this flight is included in the price of your voyage). Upon arrival at the King George Island, we embark our ship via Zodiac. After settling in to our cabins and exploring our new surroundings, we meet our expedition team and fellow passengers. Excitement is in the air as we enjoy a welcome cocktail and our first meal. No doubt, everyone on board will be looking forward to the incredible adventure ahead.
Days 2 to 6 – Antarctic Peninsula towards the Circle
Having crossed the broad expanse of the Bransfield Strait overnight, we wake to see the towering peaks of the Antarctic continent for the very first time. This is a deeply moving experience for many on board. We push southwards, navigating to our ultimate objective below the Antarctic Circle. There is much to see and experience on our way south. We will be opportunistic, making shore landings in locations that provide great wildlife encounters, or the chance to stretch our legs on a short or long hike, such as Port Charcot.
There are several locations in the Fish and Argentine Island archipelagos, which allow for Zodiac cruising and potential shore landings. We hope to visit a working scientific base (Vernadsky Station), to learn of the important climate-related research, which is ongoing.
A hike over the snowy saddle of nearby Winter Island allows us to hike and explore the old British Antarctic Survey hut – Wordie House – situated on the site of Rymill's BGLE Northern Base from the 1930's.
Petermann Island is home to a substantial Adelie penguin rookery. The view to the north, of Mount Shackleton and Mount Scott is impressive. These towering granite sentinels mark the southern entrance to the Lemaire Channel. Nearby Pleneau Island offers more opportunities for shore landings. Just off shore, in the shallow waters of the Penola Strait, massive icebergs run aground. Constant wind and wave action sculpt these gargantuan chunks of ice into fantastic shapes, revealing more shades of blue than you could ever imagine. For many, a Zodiac cruise here will be a highlight of the voyage.
It is somewhere in this vicinity we hope to spend a night ashore camping for those interested, if weather conditions permit. We have all the gear and an expert team of guides to make this unique experience happen. There is no need to pre-book – you can decide on the day. This activity is included in the price of your voyage.
Day 7-9 / Detaille Island, Marguerite Bay
Given optimal ice conditions, we aim to sail south of the Antarctic Circle. A favoured landing site here is Detaille Island, home to an abandoned British science hut. 'Base W' was established in the 1950's and is in a remarkable state of preservation. For the history buffs this is a fascinating place, providing a glimpse into the harsh life of early Antarctic scientists and researchers.
We are at the mercy of prevailing ice conditions navigating even further south. Years of experience tell us that late February gives us our best chance of reaching Marguerite Bay.
We may take the 'shortcut', through a narrow channel known as 'the Gullet' if the passage is ice-free. Otherwise, we could navigate around the outside of Adelaide Island – which will take more time, yet bring us to the same destination.
Marguerite Bay is home to several important science bases – Rothera (UK), San Martin (Argentina), Carvajal (Chile) and features rich history. We hope to make a visit to at least one of these locations.
The British Graham Land Expedition (BGLE) of the early 1930's – led by intrepid Australian, John Rymill, established their Southern Base in this area. They explored and surveyed large areas of the Antarctic Peninsula by airplane, establishing the Antarctic Peninsula was indeed connected to the continental landmass – and not just a series of off-shore islands as earlier believed.
Days 10 and 11 – Drake Passage, return to South America
As we make our way back to South America, the educational presentations continue and we enjoy an entertaining and memorable voyage recap by our Expedition Leader. Join our photography experts in the multimedia room and download and back up your precious images.
If weather conditions allow, we hope to make a rounding of Cape Horn. This fabled stretch of water is home to legendary tales of exploration and early navigation. It's a fitting place to reflect on a wonderful expedition. Approaching the entrance to the Beagle Channel in early evening light, we enjoy a special dinner attended by the Captain of the ship.
Day 12 – Ushuaia, Argentina
In the early morning, we arrive into Ushuaia, Argentina. It is time to say farewell to your crew and fellow travellers. Guests will be transported to their hotels or to the airport for return flights home. It will be possible to connect to flights through to Buenos Aires or other destinations in South America. Otherwise enjoy a night in town or venture further afield to explore the highlights of Patagonia.
CABINS & PRICES
| | |
| --- | --- |
| Triple Share | USD 11,495 |
| Twin-Semi Private | USD 13,695 |
| Twin Private | USD 15,295 |
| Superior | USD 16,195 |
| Shackleton Suite | USD 17,895 |
| One Ocean Suite | USD 19,495 |
All rates per person in USD
INCLUDES
Extensive pre-departure information package
• Educational presentations from experienced guides such as ornithologists, glaciologists, historians, geologists, naturalists and marine mammals experts
• Photography advice and instructions from the resident photographer. Extended photography workshops available on select departures
• All zodiac and landing excursions
• Zodiac cruising, hiking, guided walks, photography workshops, fitness and yoga
• Overnight camping, including high-quality equipment. No pre-registration required. Camping is available on select departures only and can be affected by itinerary and
weather conditions. Please see your full itinerary for further details
• All meals during the voyage prepared by One Ocean Expeditions chefs
• Welcome reception and welcome dinner
• One Ocean Expeditions Farewell dinner hosted by the Captain
• Daily afternoon tea with fresh snacks
• Coffee, tea and hot chocolate available anytime
• Access to wellness area (Finnish sauna, plunge pool filled with sea water, hot tub)
• Natural essential oil amenities
• Use of multimedia room to download images. Adobe Lightroom/Photoshop and card readers are available for use on MAC and PC computers
• Windproof/waterproof jacket and bib pants on loan
• Insulated rubber boots on loan
• Water resistant binoculars on loan
• Waterproof backpack on loan
• Trekking poles available on shore
• Services of English speaking medical officer
• Access to ship's infirmary
• Transfers from/to designated meeting points to/from the ship
• Required flights to/from the ship (only applicable on certain departures)
• Luggage transfer to/from your cabin
EXCLUDES
International and national airfares
• Visa and passport fees, airport taxes
• Pre- or post-cruise hotel accommodation in arrival/departure cities
• Meals and transfers in arrival/departure cities
• Personal expenses
• Soft drinks and alcoholic beverages
• Massages from registered therapist
• Personal laundry charges
• Postage, telephone calls and email set up
• Medical expenses such as fees, prescriptions or medications
• Travel medical insurance including medical evacuation (mandatory)
• Trip interruption/cancellation insurance
• Gratuities to staff and crew
OOS171800085
https://wayfinderadventures.com/wp-content/uploads/2017/09/One-Ocean-13.jpg
1080
1920
radmin
https://wayfinderadventures.com/wp-content/uploads/2017/08/LOGO-NEGATIVO-2-300x88.png
radmin
2017-09-08 16:34:45
2018-10-06 13:53:05
Antarctica 'Deep South' (includes flight to King George Island)