In Shackleton´s footsteps
» Mar 7 2018 – Mar 24 2018 (18 DAYS)
» DISEMBARKATION: Port Stanley
EXPEDITION IN BRIEF
• Explore the most accessible and wildlife-rich region of Antarctica
• Daily shore visits and Zodiac cruises offer close encounters with penguins, whales, seals and sea birds
• Visit historic research huts and working scientific stations
• Cruise past massive icebergs and ancient glaciers
• Learn about Antarctica's unique geology, history and wildlife from our expert team
• Witness the incredible wildlife of South Georgia, one of the greatest wildlife concentrations on the planet
• Cruise past Elephant Island's dramatic north coast (weather permitting)
• Trace the final leg of Sir Ernest Shackleton's perilous journey from Fortuna Bay to Stromness
• Pay your respects to the great explorer at a visit to his gravesite at Grytviken
• A small group will have the opportunity to trek across South Georgia as part of our Alpine Crossing
ITINERARY OVERVIEW
Day 1 – Ushuaia & Beagle Channel

Days 2 and 3 – Drake Passage

Days 4 to 7 – 

Weddell Sea & Antarctic Peninsula

Day 8 – Elephant Island

Days 9 to 10 – At sea

Days 11 to 15 – South Georgia

Days 16 and 17 – At sea

Day 18 – Falkland Islands/Malvinas

SHIP
Polar Pioneer
ADVENTURE OPTIONS
Alpine Crossing of South Georgia
Climbing
Kayaking
Polar Photography Workshops

ACTIVITIES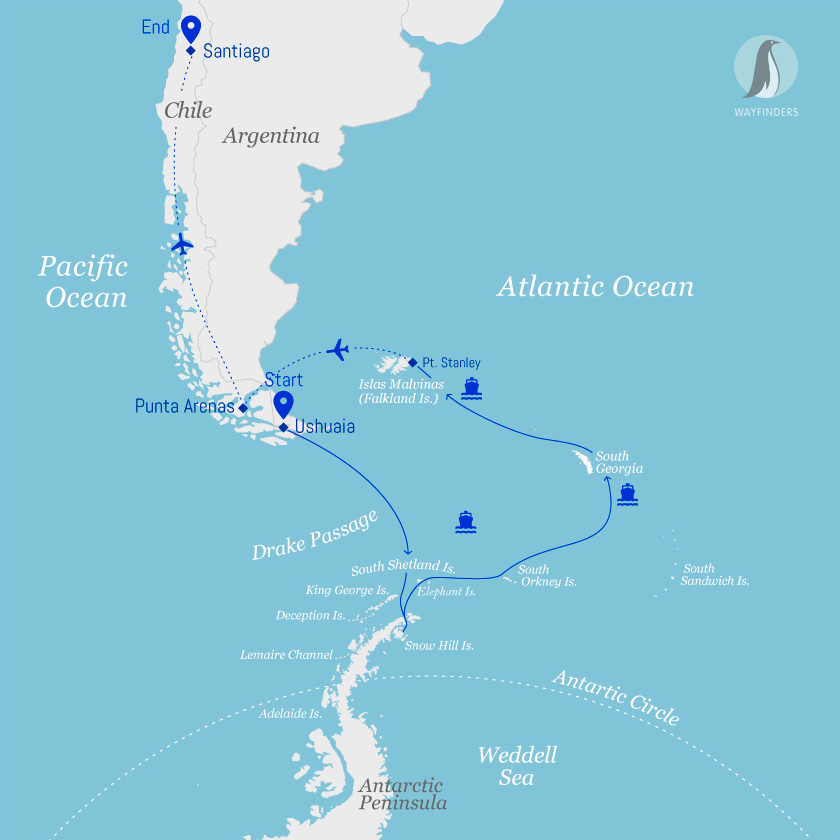 On this extended voyage you will experience the pristine beauty and vast landscapes from Antarctica, and the abundant wildlife of South Georgia. Retrace the footsteps of one of the greatest Antarctic explorers: Sir Ernest Shackleton.
ITINERARY DAY BY DAY
Day 1 – Embark Ushuaia, Argentina & Beagle Channel
Having made your own way to Ushuaia, you'll have time to explore the bustling community that lays claim to being the world's most southerly city. Sitting beneath the spectacular mountains of Tierra del Fuego on the edge of the Beagle Channel, there are plenty of activities to keep you occupied. You could take a trip to the Lapataia National Park by train or bus, or visit the small museum, which has informative displays about the original inhabitants and the current population of Tierra del Fuego.
Ushuaia is a duty free port with a reputation for its Argentine chocolates, cheap alcohol and leather goods, as well as a great place to buy souvenirs and presents. There are a host of excellent restaurants available whether for a quick coffee, or for an excellent meal of king crab or an Argentine barbecue.
This afternoon you will make your own way to the port to board Polar Pioneer at 1600 (4pm). Our expedition team and Russian crew will welcome you aboard and show you to your cabin. As we set sail down the Beagle Channel, we will settle into shipboard life and enjoy our first meal on board, as the crew set our course for Antarctica.
Days 2 to 3 – Drake Passage
As we sail past Cape Horn, the most southerly point of the American continent, some of us will approach this historic crossing with more than a little trepidation. But despite its reputation, there are many times when the Drake Passage resembles a lake, with lazy Southern Ocean swells rolling under the keel.
The mood on board is definitely casual. At sea we are totally selfsufficient. The days flow by as we travel snugly in our cocoon. A favourite pastime on board is to stand at the stern watching the many seabirds, including majestic albatrosses and giant petrels following in our wake. They rise and fall skilfully, using air currents created by the ship to gain momentum.
During our Drake crossing, we will commence our lectura program on the wildlife, geology, history and geography of the Antarctic Peninsula. Our history lectures will largely be focused on Shackleton's historic journey. We will be given guidelines for approaching wildlife and talk about the implications of the Antarctic Treaty.
Nearing the tip of the Peninsula towards the end of day three, excitement reaches fever pitch with everyone on the bridge watching for our first iceberg. The ocean takes on a whole new perspective once we are below the Antarctic Convergence and are surrounded by the surreal presence of floating ice sculptures. The memory of your first big iceberg sighting is likely to remain with you forever.
Days 4 to 7 – Weddell Sea and Antarctic Peninsula
Depending on the weather, we will first approach Antarctica to the north of King George Island or in narrow channels between the South Shetland Islands. From there we will head through Antarctic Sound to the eastern side of the Peninsula.
A host of choices are now open to us and depending on the ice and weather conditions the eastern side of the Antarctic Peninsula is ours to explore. Our experienced leaders, who have made countless journeys to this area, will use this expertise to design our voyage from day to day. This allows us to make best use of the prevailing weather, ice conditions and wildlife opportunities. Because we are so far south, we will experience approximately 18-20 hours' daylight and the days will be as busy as you wish. There is plenty of time for sleep when you get home!
We are always keen to explore new territory, so if the opportunity arises, we will! That's why we call our cruises, "Expeditions of Exploration and Adventure" – who knows where we will go?
Once we arrive in the calmer waters of Antarctic Sound, we hope to make landing two to three times a day. To get ashore we will use Zodiacs (inflatable rubber boats). You will have been briefed on the workings of these sturdy craft and their use, during our Drake Passage crossing. Sometimes we will cruise along spectacular ice cliffs, or make contact with whales. In these situations we will appreciate the distinct advantage of being on a small vessel, which gives everyone the opportunity to experience these very special close encounters with wildlife.
Western chefs serve hearty meals in our cosy dining rooms. Accompanied by good conversation, they will become a focal point of our shipboard life.
A sample of the many exciting places that we would like to visit follows:
Brown Bluff
Situated on the eastern side of Tabarin Peninsula, the spectacular 745-metre promontory of Brown Bluff towers over some 20,000 nesting pairs of Adelie penguins and hundreds of Gentoo penguins. Nesting skuas, snow petrels and pintados inhabit the upper slopes and kelp gulls screech overhead. Brown Bluff'svolcanic origins have created some fantastically shaped boulders that lie scattered across the ash beach and make colourful nesting sites for some of the penguins.
Paulet Island
This tiny volcanic island forms the nesting grounds of some 120,000 pairs of Adélie penguins, and the surrounding seas literally teem with penguins! There is also a blue-eyed shag colony situated at one end of Paulet's long beach front. Leopard seals are often seen cruising offshore, hoping to pick up penguin snack. Weddell seals sometimes haul out here for a quiet nap on the beach. Apart from its plentiful wildlife Paulet is also rich in the history of Antarctic exploration, for it was here that the 22 men of Larsen's ship Antarctic arrived on 28 February 1903 after their ship had sunk. The men wintered on Paulet, living on penguins ands seals, until eventually Larsen and five of the men rowed across Erebus and Terror Gulf to be reunited with members of Otto Nordenskjold's geological exploration party.
James Clark Ross Island
Separated from Trinity Peninsula by Prince Gustav Channel, the beaches and rocks of this mighty island are a mix of volcanic and sedimentary; creating a geologists' paradise. The beaches arepopulated with kelp gulls while Antarctic terns and skuas nest onthe island's higher slopes. Many of the island's rocks are decorated with bright red and orange lichens, presenting fantastic photographic opportunities. Ice flows in the surrounding waters provide temporary floating homes for Weddell and leopard seals. We may walk up to Hidden Lake, following a stream rich in fossilised remains of deciduous trees, ferns and even clamshells. If ice conditions and time permit, we may also circumnavigate this fantastic island; a feat not often accomplished.
Devil Island
This very rarely visited island was named for its two striking peaks or 'horns'. It is the nesting site for some 10,000 pairs of Adelie penguins. If weather conditions permit, we may walk up a scree slope to the top of the island's western peak. A few hundred metres in height, the summit provides superb views into Erebus and Terror Gulf. On the upper slopes we may even see nesting snow petrels and Wilson's storm petrels. For those who are less active, the comings and goings of penguins on the beach and the accompanying skua population provide endless fascination. There are often large numbers of grounded icebergs off shore that we may cruise among in our Zodiacs.
View Point, Duse Bay
View Point is one of the few places where we may be able to set foot on the Antarctic continent proper. A British hut was built here in 1953 and an Argentine refuge hut was established a few years later. In front of the old hut are the remains of crabeater seal carcasses, which provided food for the sledge dogs. Thanks to the cold conditions, the well-preserved hut looks just as it did all those years ago – a fascinating place to get a feeling for the golden days of Antarctic exploration.
Larsen Ice Shelf
Antarctica's most conspicuous geographical feature is ice. Glaciers inch towards the sea from towering mountain peaks and ridges. If conditions permit, we hope to cruise south and along part of the spectacular Larsen Ice Shelf, which runs continuously for some 800 km between Cape Longing and Cape Mackintosh. In 1995 a massive iceberg measuring 37 km x 36 km calved from the Larsen Ice Shelf and drifted north. We may see some remnants of this spectacular event and perhaps even witness smaller pieces of ice splitting away.
Other places we may visit around the Weddell Sea area and on the eastern side of the Antarctic Peninsula are: Joinville Island; D'Urville Island; Hope Bay; Seymour Island; Snow Hill Island; Vega Island; Prince Gustav Channel; Beak Island; Crystal Hill; Herbert Sound.
Day 8 – Elephant Island
Today, if weather permits, we set course for Elephant Island, a half-submerged mountain cloaked with an ice sheet at the outer limits of the South Shetlands. En route, our recaps and lectures will resume and there will be time to gather energy for the busy days ahead.
We'll learn the story of Shackleton and hear how his ship, the Endurance, was crushed in pack ice in the Weddell Sea, before him and his men climbed into three open boats, spending 16 months at sea, before finally making landfall on this tiny toe of rock and ice in the vastness of the Southern Ocean on 14 April 1916.
As we commemorate the upcoming century of Shackleton's fateful expedition, we plan to sail past Cape Valentine to see the beach where the men first put ashore nearly 100 years ago. Weather permitting; we hope to follow the coastline six miles west to Point Wild, where the men eventually set up camp under two of their upturned open boats and some old tents. We will attempt to make at least one landing on historic Elephant Island.
Days 9 and 10 – At Sea
En route for South Georgia we'll head across the Scotia Sea, following the route that Shackleton and five of his men took in order to find help for the rest of their crew. On 24 April 1916, they piled into the James Caird, the most seaworthy of their open boats, to attempt this perilous journey to South Georgia, some 1290 km distant. Shackleton hoped to reach South Georgia in two weeks. There he would enlist the help of the whalers to return to Elephant Island and rescue the men who had been left behind.
We'll enjoy the comfort of our ocean crossing as we ponder the hardships Shackleton and his men experienced as they crawled about on the rocks used as ballast on board James Caird.
Days 11 to 14 – South Georgia
To us, South Georgia is one of the most beautiful places in the world.
The island is a tiny speck in the South Atlantic Ocean, located in one of the most desolate parts of our planet. A 3,000-metre mountain range traces the spine of this long, narrow island. Between the mountains, shattered glaciers carve their way through tussock grass to the deeply indented coastline. Though geographically speaking the island lies in the Subantarctic area, as do the islands of Macquarie and Heard, it has a climate more in keeping with the true Antarctic regions. This is because South Georgia lies near the Antarctic Convergence.
Some of the glorious destinations that we plan to visit in South Georgia are listed below:
Grytviken
Originally a Norwegian sealing and whaling station, it was finally abandoned in 1965. Here we must be careful to avoid stepping on sleeping elephant seals as we skirt the ruins of Factory buildings peering into the past, trying to imagine what it was like when whale processing was in full swing. Abandoned ships lie sunken alongside old wharves, while pitted concrete walls remind us of the more recent Falkland's War, which started here.
Sir Ernest Shackleton died from a heart attack during his final expedition on board the Quest on 6 May 1922. His body was laid to rest at Grytviken and we hope to make a pilgrimage to visit the cross his men erected in his memory looking out across beautiful Cumberland Bay.
St Andrews Bay
The sandy black beach is a resting place for hundreds of elephant seals that haul out on the shore to moult. Behind the beach, the sight and sound of tens upon tens of thousands of king penguins at different stages of their breeding cycle will be overwhelming. The glacial river that runs into the sea here will be alive with penguin chicks and elephant seal pups testing their aquatic skills. If we lift our gaze from the wildlife for a moment, we will glimpse the snow-capped peaks of some of the world's most spectacular mountains.
Stromness Bay
At 4:00 pm on 20 May 1916, Shackleton, Worsely and Crean arrived here after their arduous 27 km journey across the mountains from King Haakon Bay. As well as examining the ruins of the old whaling station, we may also wander up to the mountains behind the old whaling station to see the waterfall descent that formed the last section of Shackleton's epic journey. We may even get the opportunity to walk from Fortuna Bay across the saddle to the waterfall as Sir Ernest did.
Bay of Isles
One of the wildlife highlights will be visiting the serene wandering albatrosses sitting proudly on their cute downy chicks. We can sit within respectful metres of these gentle birds whilst they perform intimate courtship dances, feed their young or clumsily launch themselves into the air, bound for a fishing trip.
Other stunning wildlife destinations we may visit include:
Elsehul Bay Royal Harbour
Cooper Bay Drygalski Fjord
Larsen Harbour Salisbury Plains
Gold Harbour Right Whale Bay
Possession Bay
Day 15 – Shag Rocks
If time and weather permit, we may pass Shag Rocks, six small islands in the westernmost extremity of South Georgia. The fascinating group of jagged rocky islets protrude from the sea and blue-eyed cormorants fill the air; their precarious nesting sites are white with guano.
Days 16 to 17 – At Sea
We begin cruising back towards the Falklands Islands/Malvinas. On this leg we are usually travelling into the prevailing weather so it is difficult to estimate our arrival time in the Falklands. Our lecture program will continue and we'll have ample time to enjoy the rest of our time observing the sea birds that follow the ship, whale watching from the bridge, or simply relaxing in the bar with a favourite book.
Day 18 – The Falkland Islands/Malvinas
Polar Pioneer will glide into Port Stanley for our early morning arrival. You have the choice of extending your stay in this very British outpost or continuing directly on this afternoon's flight to Punta Arenas or Santiago (included). Should you choose to travel on this day, you will be greeted by our local guide who will assist you with the transfer to Mount Pleasant airport for your afternoon flight. Due to possible delays we ask that no onwards flights be booked out of Santiago on this day.
Please Note: If you wish to stay on in Stanley, flights operate once a week on a Saturday and are subject to availability and may involve an additional surcharge.
CABINS & PRICES
| | |
| --- | --- |
| Triple (shared bathroom) | USD 14,300 |
| Twin public cabin (shared bathroom) | USD 17,500 |
| Twin private cabin (en-suite bathroom) | USD 21,200 |
| Mini Suite (en-suite bathroom) | USD 23,500 |
| Captain Suite (en-suite bathroom) | USD 24,800 |
All rates expressed in USD per person sharing
INCLUDES
Luggage transfer from hotel in Ushuaia to Polar Pioneer on day of boarding.
Transfer from Polar Pioneer to Stanley airport, including tour of Stanley
Flight from Stanley to Punta Arenas OR Santiago (no reduced fare for finishing in Punta Arenas)
Accommodation during the voyage
All meals, snacks, tea and coffee during the voyage
All shore excursions and Zodiac (inflatable boat) cruises
Educational lectures and guiding services from our expert team
Free access to our on board doctor and basic medical services
Free gumboot hire during the voyage
Daily cabin service
An Aurora Expeditions' multi-purpose waterproof jacket
Comprehensive pre-departure information
Professionally produced voyage journal (one per booking)
Port taxes and charges
All entry fees to historic landings sites.
EXCLUDES
International or domestic flights to or from ship, unless specified
Transfers not indicated in the itinerary
Airport arrival or departure taxes
Visa, passport, and vaccination charges
Travel insurance or emergency evacuation charges
Hotels and meals not included in itinerary
Optional excursions not included in the itinerary
Optional activity surcharge.
All items of a personal nature including but not limited to: alcoholic beverages and soft drinks, laundry services, personal clothing, medical expenses, gratuities, and email or phone charges.
AUS171800118
https://wayfinderadventures.com/wp-content/uploads/2017/09/Aurora-1.jpg
1080
1920
radmin
https://wayfinderadventures.com/wp-content/uploads/2017/08/LOGO-NEGATIVO-2-300x88.png
radmin
2017-09-11 00:05:49
2018-10-06 13:47:01
In Shackleton´s footsteps