North Pole Express: Barneo Ice Camp
» Apr 13 2018 – Apr 15 2018 (3 DAYS)
» EMBARKATION: Longyearbyen
» DISEMBARKATION: Longyearbyen
EXPEDITION IN BRIEF
Fly-in to one of the most remote and extraordinary expedition base camps in the world
Reach the top of the world by Antonov AN-74 aircraft and Mi8 helicopter
Learn first hand about the scientific and research activities being conducted at this research station
Explore the unique culture of Longyearbyen, Norway before the base camp
ITINERARY OVERVIEW
IMPORTANT
The itinerary outlined below is only a sample of a typical expedition to Barneo Ice Camp. Day-to-day activities may vary and are also weather dependent. Please note that all flights in the itinerary may be earlier or later than scheduled, depending on weather conditions.
Day 1 – 

Arrive Longyearbyen, Norway
Day 2 – Barneo Ice Camp and North Pole
Day 3 – Return to Longyearbyen

SHIP
ADVENTURE OPTIONS

ACTIVITIES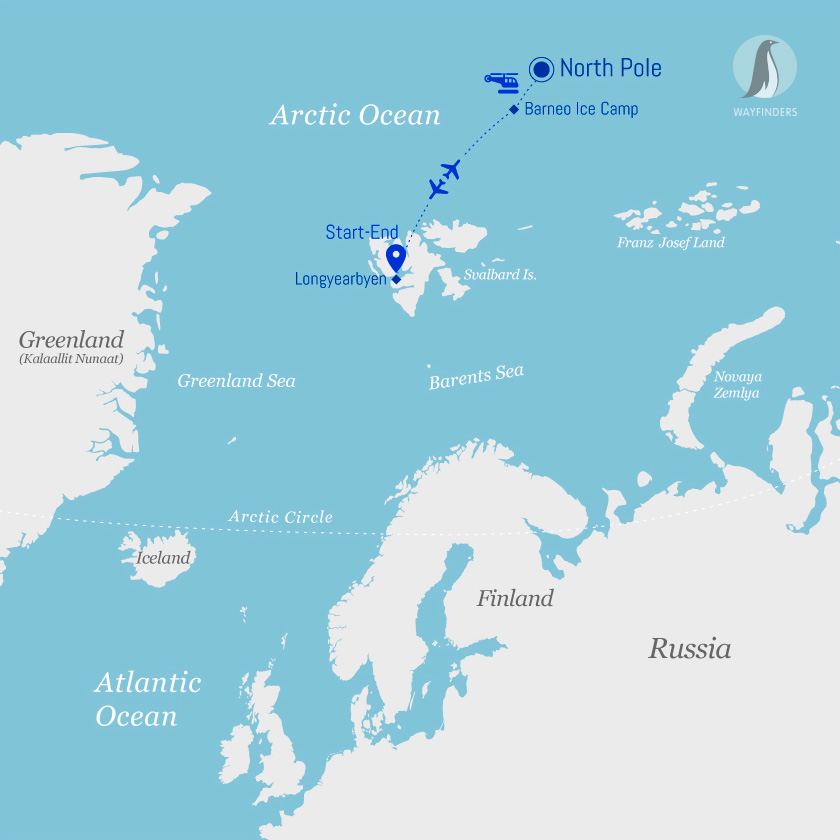 The pinnacle of this three-day expedition is spending one night at 89° north at Barneo Ice Camp. This seasonal, fly-in base camp is truly a unique North Pole experience and ideal for those seeking a short, but adventurous journey to the top of the world. You'll be one of a limited group to land on a runway made of ice, and take up temporary residence at this unequalled base camp on the frozen Arctic Ocean.
Established each year to be a functioning Russian science and logistics station, the site is operated by the Expeditionary Center for the Russian Geographical Society. Among your fellow guests and base staff, you may meet scientists, pilots, mechanics, engineers, and explorers.
This expedition offers a fully-guided opportunity to achieve the North Pole by helicopter. Guests will enjoy heated facilities and hearty meals, all accessible within an approx. 2.5 hour flight from Longyearbyen, Svalbard (Norway).
ITINERARY DAY BY DAY
Day 1 – Arrive Longyearbyen, Norway
Upon arrival in Longyearbyen, Svalbard, you will be met at the airport by a member of the Quark Expeditions® team. After settling in to your hotel, there will be a briefing about Barneo Ice Camp. You will be updated on current camp conditions, expedition details, and your departure the following day to 89° north. This evening the group will get together for a welcome dinner.
Day 2 – Barneo Ice Camp and North Pole
Accompanied by a member of the Quark Expeditions® team, we'll transfer to the airport and board the special Antonov AN-74 aircraft for the approximately 2.5 hour flight to Barneo. One of the unique thrills of this expedition is landing on the ice runway at Barneo, a seasonal air strip constructed on the polar ice cap each year, and the only facility that allows external access to the base. Shortly after arriving at camp, we'll have lunch and an introductory briefing will be conducted. Barneo is a functioning research base for scientists and adventurers from around the world, and it's always a hive of activity.
After lunch, it's destination – North Pole! The excitement mounts as you prepare for your Mi8 helicopter flight to the northernmost point on earth. Here there is only ice, and the Arctic Ocean is approximately 2.5 miles (4 km) deep at this point. Weather conditions are closely monitored, and the flight will be scheduled accordingly. We'll aim to land at 90° north. Once there, savor the moment – pose for pictures, walk around the world together, take it all in. You'll spend about an hour here – walking, celebrating, and capturing those moments on camera – before the approximately 30-minute helicopter flight back to camp.
Tonight, following dinner, you'll rest up in your heated tent. Each co-ed tent houses 10-12 guests and is equipped with camp beds.
Day 3 – Return to Longyearbyen
After breakfast, you'll have some time to wander around the camp and take in the last moments of your pristine surroundings before you bid farewell to Barneo Ice Camp and return to Longyearbyen. In Longyearbyen you may wish to visit the museum, shop for souvenirs, or just walk through the town, before you depart.
CABINS & PRICES
All rates per person in USD, based on double occupancy at the Longyearbyen hotel, and co-ed shared accommodation at Barneo Ice Camp.
INCLUDES
One night hotel accommodation based on double occupancy with breakfast in Longyearbyen
Welcome dinner in Longyearbyen
All transfers and flights per the daily program
Shared tent accommodation at Barneo Ice Camp
Group helicopter excursion to the North Pole (weather dependent)
All breakfasts, lunches, dinners and snacks at Barneo Ice Camp
Coffee, tea and cocoa available around the clock
All activities per the daily program
Leadership throughout the voyage by our experienced Expedition Leader
Comprehensive predeparture materials, including a map and an informative Arctic Reader
All miscellaneous service taxes and port charges throughout the program
All luggage handling aboard the ship
Emergency evacuation insurance to a maximum benefit of US$500,000 per person
EXCLUDES
International airfare
Passport and applicable visa expenses
Government arrival and departure taxes
Meals unless otherwise specified
Baggage, cancellation, interruption and medical travel insurance—strongly recommended
Laundry, bar, beverage and other personal charges unless specified
Phone and Internet charges (Longyearbyen only)
Additional overnight accommodation
Additional expenses (meals, accommodation, international flight change fees, etc.) incurred by delay or cancellation of activities due to sub-optimal weather
PLEASE NOTE Dates of operation may be altered due to weather and ice conditions. Please be aware of this when making international flight arrangements. Consider purchasing flexible, changeable airline tickets, or booking a one-way flight home after completing the expedition, to help reduce ticket change fees. These delays may not be covered by travel insurance.
TRIP INTERRUPTION AND CANCELLATION INSURANCE IS STRONGLY RECOMMENDED
Note: Baggage allowance on charter flight is 33 lbs (15 kg) carry-on. Checked luggage is not permitted.
QUN201800145
https://wayfinderadventures.com/wp-content/uploads/2017/09/VOYAGES_ARCTIC-BARNEO.jpg
1080
1920
radmin
https://wayfinderadventures.com/wp-content/uploads/2017/08/LOGO-NEGATIVO-2-300x88.png
radmin
2017-09-07 12:33:24
2018-10-06 14:00:37
North Pole Express: Barneo Ice Camp