Photography Series: Antarctic Explorer
» Nov 13 2018 – Nov 23 2018 (11 DAYS)
» DISEMBARKATION: Ushuaia
EXPEDITION IN BRIEF
Take your polar photography to the next level thanks to unique workshops and lectures and the chance to watch our photo pros in action.
Witness iconic Antarctic wildlife, such as penguins, seals and whales
Explore highlights of the Antarctic Peninsula
Learn about the region's wildlife and environment from on-board experts
Experience the White Continent from the unique and intimate perspective of a Zodiac
ITINERARY OVERVIEW
Day 1 – Ushuaia

Day 2 – Embarkation day

Day 3 and 4 – Crossing the Drake Passage

Days 5 to 8 – South Shetland Islands and Antarctic Peninsula

Days 9 and 10 – Crossing the Drake Passage

Day 11 – Disembark in Ushuaia
Travel with our professional polar guides to one of the most photographic destinations on the planet

SHIP
Ocean Adventurer
ADVENTURE OPTIONS
Camping
Kayaking

ACTIVITIES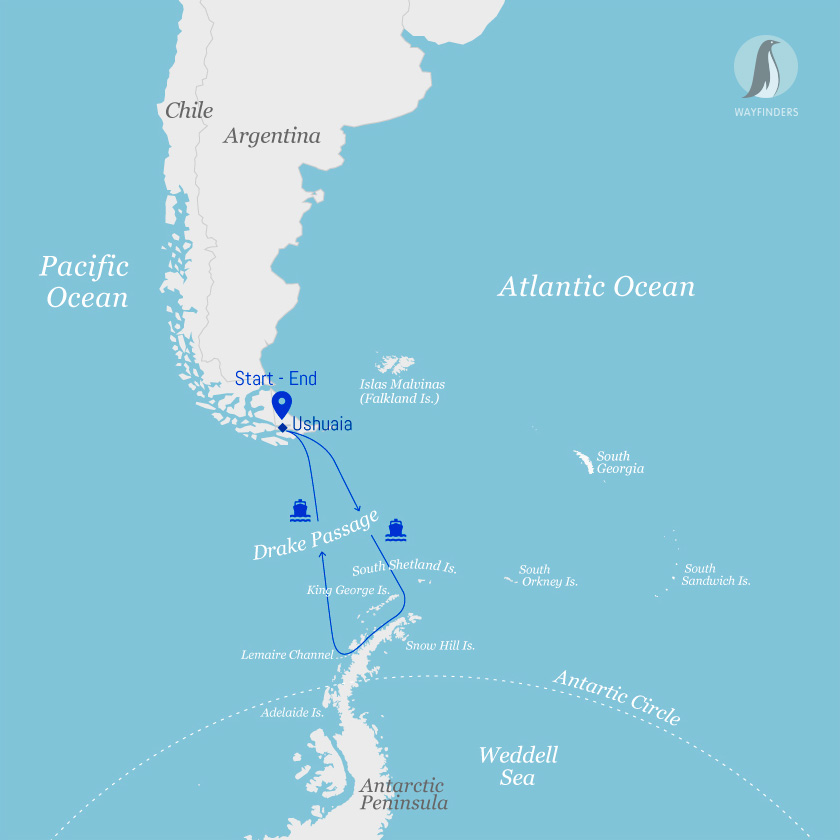 On this photographic voyage to the South Shetland Islands and Antarctic Peninsula, discover what has lured explorers and adventurers to this remote region for centuries. Traveling with our professional polar guides to one of the most photographic destinations on the planet, you will have the unique opportunity to watch our photography experts in action, and perfect your skills through special workshops and lectures, so you too can capture fantastic polar photographs just like a pro. With an itinerary governed by Mother Nature, each expedition is personal and each day more beautiful than you ever imagined, rewarding with an abundance of photo ops and unforgettable memories. Don't be surprised if you experience much of this expedition to the end of the world through the lens of your camera!
As you cruise in a Zodiac through crackling sea ice, sailing past soaring ice formations and bergs, or you sit amidst a penguin rookery, surrounded by hundreds of these curious creatures, what you'll notice most is that Antarctica is a photographer's delight—pure nature, with untamed wildlife and vistas that are incomparable to anywhere else on earth.
ITINERARY DAY BY DAY
Day 1 – Ushuaia
With a population of more than 63,000, Ushuaia is the southernmost city in the world. Although the city has grown during the past few years, it retains an easygoing and accessible feel. Surrounded by the sea to the south and the mountains to the north, Ushuaia is a spectacular departure point for your Antarctic cruise. If you arrive early, you can spend time in nearby Tierra del Fuego National Park, enjoy Argentine wines and barbecues in the city, or visit the many boutiques and cafés before you leave for your expedition to Antarctica.
Day 2 – Embarkation Day
Embarkation will occur in the late afternoon, after which your vessel will sail through the historic Beagle Channel. This famous channel, where your camera will be put into action snapping shots of seabirds, sea lions and seals, transects the Tierra del Fuego archipelago in the extreme south of South America. Expect an air of anticipation as you depart—the next time you see land, you'll be in the world's most southern continent!
Days 3 and 4 – Crossing the Drake Passage
Prepare yourself for potentially rough water, but hope for a smooth sailing as the Drake is unpredictable and always changing. You'll spend these first days getting to know your shipmates while your Expedition Team provides safety briefings and insights into what excitement lies ahead.
Expedition staff will also give photography buffs the scoop on shooting in the Polar Regions, which has its own set of unique challenges. You'll learn how capture the gleaming white and deep blues of the snow, ice and icebergs in the White Continent, which can be tricky to do, with light reflecting off the surrounding sea and snow. Keen to capture the enormity of those bergs and the vastness of the landscape? Want to know how to snap the perfect penguin or seal portrait, or a breaching whale? Our on-board pros will be on hand during sea days to give you tips on capturing the magnitude and magnificence of this magical region.
Days 5 to 8 – South Shetland Islands and Antarctic Peninsula
Once the Antarctic Convergence is left in our wake, you will truly begin your Antarctic adventure. It is perhaps the first sight of land itself that is embraced as the true beginning of any Antarctic expedition. You will begin to appreciate why this region has long captivated
the attention of explorers and travelers alike. Every time we visit Antarctica, we witness something new or unexpected, which means that your expedition will be unlike any other—creating a unique, personal experience.
Each day, you will take Zodiac excursions from the ship to explore local bays, channels and landing sites. Shooting photographs from a Zodiac rewards with unique perspectives not afforded by land, and you'll have several opportunities to capture the impressive landscape from angles that show off its striking beauty.
With wildlife always at the forefront of our minds, you may be able to photograph penguin rookeries and search for a number of southern seal species, including the cunning leopard seal. As we scout for whales, you may be fortunate to snap a shot of a surfacing humpback or minke.
The majesty of the Antarctic Peninsula's mountains will enchant as you scramble up snowy pathways to vantage points offering you unparalleled 360° views of your surroundings. Talk about a picture postcard! Your camera will get quite the workout capturing the vastness of this pristine landscape. Danco Island, especially, offers us the opportunity to visit a penguin colony high up on a ridge. Here, you'll have the option to hike to the island's summit, but photographers will most likely want to spend some time sitting quietly on a pebbled beach, capturing the antics of curious penguins interacting with one another and maybe even you, if you're lucky (and patient). If you're feeling extra adventurous, participating in the polar plunge swim is about as crazy as it gets!
Amid the serene silence of Antarctica, noisy interludes become indelible memories, such as penguins squabbling over prized pebbles, or the boom and crack of a calving glacier in Neko Harbour.
Each day will be different and will offer more to explore and photograph, having been carefully crafted by your Expedition Team to entertain and educate you about this wonderful part of the world.
Days 9 and 10 – Crossing the Drake Passage
The journey back across the Drake Passage provides final opportunities to enjoy the crisp Antarctic air. Spend time on the deck, watching for seabirds and scouting for whales, enjoy presentations by your Expedition Team, or simply relax and reminisce about your experiences.
Day 11 – Disembark in Ushuaia
After breakfast aboard your ship, it's time to say goodbye to your Expedition Team and fellow travellers. From here, you can continue your adventure in Ushuaia, exploring this city at "the end of the world," or catch your homeward flights.
CABINS & PRICES
Triple
Lower deck
Main deck porthole
Main deck window
Superior
Deluxe
Suite
Owner suite
INCLUDES
Shipboard accommodation with daily housekeeping

All breakfasts, lunches, dinners and snacks on board

All shore landings per the daily program

Leadership throughout the voyage by our experienced Expedition Leader

All Zodiac transfers and cruising per the daily program

Formal and informal presentations by our Expedition Team and special guests as scheduled

A photographic journal documenting the expedition

Waterproof expedition boots on loan for shore landings

An official Quark Expeditions® parka to keep

Coffee, tea and cocoa available around the clock

A hair dryer and bathrobes in every cabin

Comprehensive predeparture materials, including a map and an informative Antarctic Reader

All miscellaneous service taxes and port charges throughout the program

All luggage handling aboard the ship

All gratuities

Emergency evacuation insurance to a maximum benefit of US$500,000 per person

Group transfer in Ushuaia from the airport to the pre-expedition hotel on Day 1

One night's pre-expedition hotel accommodation in Ushuaia, with breakfast

Group transfer from the hotel to the ship on embarkation day

Group transfer upon disembarkation in Ushuaia from the ship to the local airport
EXCLUDES
International airfare
Passport and visa expenses
Government arrival and departure taxes not mentioned above
Meals ashore unless otherwise specified
Baggage, cancellation, interruption and medical travel insurance—strongly recommended
Excess-baggage fees on international flights
Mandatory waterproof pants for Zodiac cruising, or any other gear not mentioned
Laundry, bar, beverage and other personal charges unless specified
Phone and Internet charges
Additional overnight accommodation
Optional adventure activities
QUS181900060
https://wayfinderadventures.com/wp-content/uploads/2017/07/Quark-2.jpg
1080
1920
radmin
https://wayfinderadventures.com/wp-content/uploads/2017/08/LOGO-NEGATIVO-2-300x88.png
radmin
2018-01-09 17:21:48
2018-10-10 15:12:25
Photography Series: Antarctic Explorer